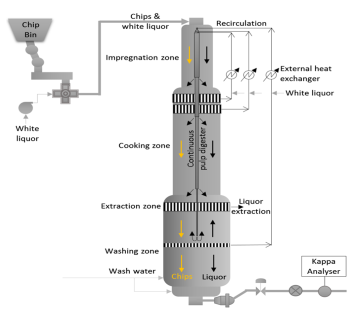 Current situation
The main task of the fiber-line is to produce pulp with a good quality and as high yield as possible for the board machines.
In pulp digesters the goal is to remove a certain amount of lignin from the fibers, measured as kappa number. Billerudkorsnäs are using PI as a database to store data.
Improvement potential 
The functionality desired is to predict the Kappa number from the Wood properties of Wood coming into the fiber-line by measuring NIR spectra of the incoming chips. Another goal is to develop an architecture for process diagnostics with the help of Bayesian network. The plan is to develop such architecture by using the physics based and machine learning approach. The scope of the process diagnostics is limited by detecting digester hang-ups, screen clogging and channelling of liquor inside the digester.